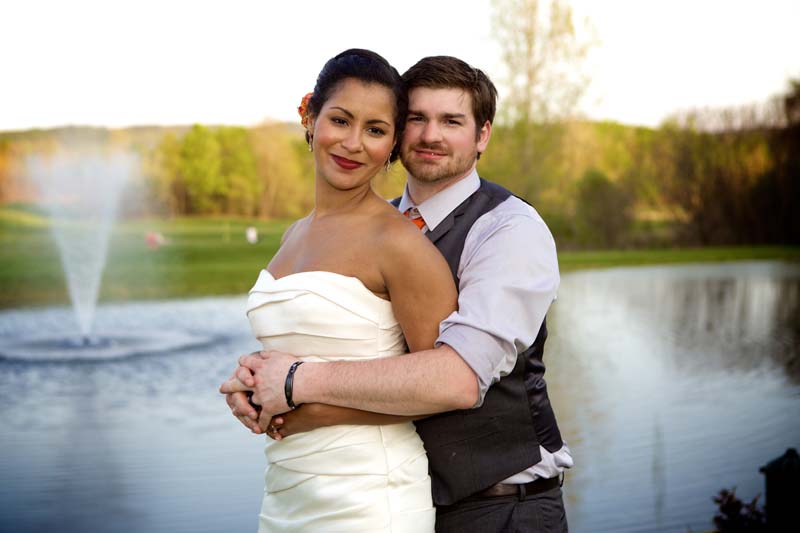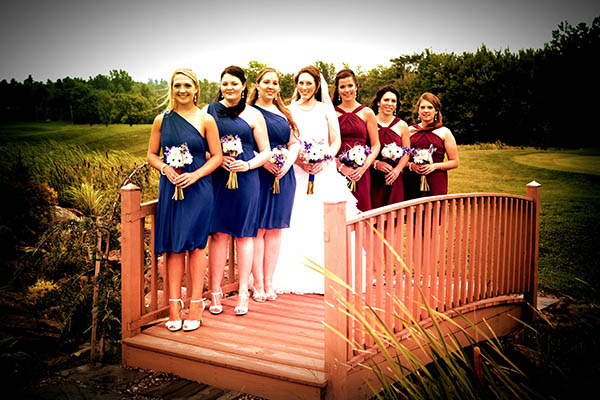 ---
Package 1
Room
$4,000 Saturday/$3,000 Friday or Sunday
---
Package 2
Room/Full-Service Waitstaff
Plates/Glassware/Silverware/Chafing Dishes
$6,000 Saturday/$5,000 Friday or Sunday
---
Package 3
Room/Full-Service Waitstaff
Plates/Glassware/Silverware/Chafing Dishes
Catered Meal starting at $60 per person (customized menus upon request)
$5,000 Saturday/$4,000 Friday or Sunday
---
*All Packages include tax and gratuity
*Children under 12 are 1/2 price, 5 and under are free
Wedding Packages
All of our three wedding packages include all-day access to the bridal suite; reception room including tables/chairs/tablecloths; bar set-up/bartender fees; outdoor ceremony sites (mountain view pond/garden); wedding arch/outdoor seating; bridal cart & bridesmaids' carts, and gazebo/golf course access for photos.
No Time Restraints
At the Catamount Country Club we do many outdoor wedding ceremonies on site at either our mountain view pond or garden locations. We will wait out bad weather to ensure you receive the country wedding of your dreams. The day is yours, plan your day as you like, with no extra time fees.
Photo Sites
Between our mountain view pond, luscious gardens, and 60 spectacular country acres you have many beautiful spots to take the pictures of your dreams. You bring the photographer, we will take care of the rest.
Fully Air Conditioned
Please don't forget this important detail for any Vermont wedding in Spring, Summer or Fall.
Golf Outing
We have a wonderfully maintained golf course on site – have a fun round with your friends or family at no extra charge.
---
Testimonials
"We just wanted to drop you a line and thank you, John and your whole staff for all that you did to make our daughter Kari's wedding reception a hit! We could not have asked for more. The food was exceptional the staff was courteous and friendly! There was not one person that had a bad thing to say! As a matter of fact a lot of people asked how it was working with you and your staff! And we have highly recommended you to all! You got five stars all away around. Thank you and God bless you all!"
– Judy A.
"We found Catamount country club by accident in the back of a magazine. We fell in love with the club, the grounds and the activities they had. It was beautiful. Everything was perfect, and they made sure that if we needed anything, it was there. We actually had an accident with our wedding cake 2 nights before the wedding, it fell, and I was almost hysterical. Our rep (Bob) at the hall calmed me down, and said if we brought frosting, he would fix the cake. Well, it may not have been the 4 tiercake we started with, but you couldn't even tell the cake fell at the wedding. The way they fixed everything was great. We also enjoyed that they offered golfing; this was great because we had a kid friendly wedding, so it was great watching all the kids teeing off outside the hall. I would definitely say you cannot do better than the Catamount Country Club. If you go, talk to Bob, that man is a wedding magician; he can make your dreams come true!"
– WeddingWire
"My husband and I got married July 1st, 2011 and we had our reception at Catamount Country Club. From phone conversations with Alex, a testimonial from a friend of mine who had her reception there, and a visit to the Club we were sure this was the place for the reception we wanted.
"From the beginning Alex and his staff kept our minds at ease about all of the things that they would take care of from the tables to the dinner to the limo ride. The Chef, Bob, was very accommodating and made sure to cater their menu to a meal that would work for our family and friends.
"The new renovations improved the already beautiful room into a fun, romantic place to be. They had no problem with last minute changes or additions of guests and everything went the way they said it would (including several golf carts for our bridal party and photographers to go take pictures!)
"This experience was perfect and we didn't have to worry about much at all! Thank you, Alex and to all of your wonderful, friendly staff!"
– Jess and Matt M.
"We cannot thank you enough for the beautiful wedding you put on for our daughter and son-in-law. Your attention to detail and concentration of professional and personal service were fantastic. All of our guests enjoyed themselves and the day was just what the bride and groom wished for. Thank you for making Michelle and Justin's wedding day a wonderful memory for them and all of us. We know you have a successful business in your hands, keep doing what you're doing!"
– Dianne and Steve C.
"I was married 1 year ago July 15th, and we had our reception at Catamount Country Club. As my husband and I were thinking about that day I realized I never sent a thank you note to you guys. We booked your facility before the renovations you were doing were completed, and it totally surpassed my expectation. The room was beautiful. You did a great job setting up the tables, etc., like we requested them. The food was so good, out families still talk about it. The staff was so friendly and helpful, I feel like I can't say enough about you. We worked with Alex from the beginning and he was so great. He was true to his word about everything, and was willing to do everything he could to make our day perfect. We have been to a few weddings this year, and my husband and I agree that ours was the most fun, and had the best food. Thank you again so much, you definitely helped make my wedding the happiest day of my life. We will recommend Catamount Country Club to everyone."
– Janice and David C.
---